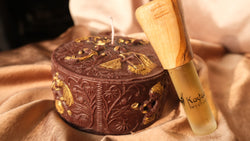 Rose & Oudh Mystique + Mahogany Gold Gilded Oudh Ellora Candle

Rose & Oudh Mystique + Mahogany Gold Gilded Oudh Ellora Candle
Rs. 2,869.00
Don the carnal charm of Rose with the warmth of Oud with Modern ittar Mystique. A carnal and sinful mix of Rose & oudh, is paired with the Mahogany Gold Gilded Ellora Candle in the fragrance of Oudh by Beige by Tej. The candle named Ellora is inspired by the exquisite Ajanta & Ellora caves in Aurangabad, Maharashtra. 
ABOUT MYSTIQUE MODERN ITTAR

 

: 

OUDH : A RICH DARK RESIN EXTRACTED FROM AGARWOOD TREES WHICH EXUDES AN EXQUISITE SENSUAL FRAGRANCE THAT ENVOKES A SENSE OF OPULENCE AND LUXURY. OUDH ALSO HAS CALMING PROPERTIES.

ROSE : INDIA BEING THE HOME TO A VARIETY OF ROSES LENDS ITS ROSE EDOUARD AND ROSA DAMASCENA TO CREATE A RICH SWEET FRAGRANCE THAT BALANCES THE WOODINESS OF THE OUDH.

WHAT'S IN THE BUNDLE

 

: 

'THE ELLORA CANDLE' IN MAHOGANY & GOLD

 

–

  A HOMAGE TO THE EXQUISITE AJANTA & ELLORA CAVES OF AURAGABAD, MAHARASHTRA, THE CANDLE IS A REMINDER OF A BESPOKE INDIAN CULTURE. 

MADE OF PREMIUM ORGANIC WAX BLEND, ORGANIC DYES AND FRAGRANCES, VEGAN AND SCULPTED BY HAND IN INDIA. 
Hand sculptured, handmade and organic. Size : 5.8in x 2.3in