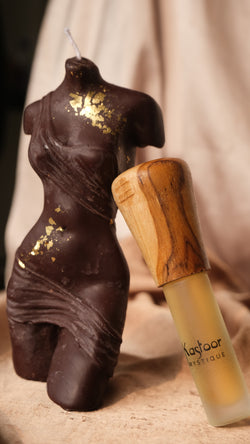 Rose & Oudh Mystique + Mahogany Saree Gilded Gold Candle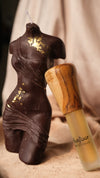 Rose & Oudh Mystique + Mahogany Saree Gilded Gold Candle
Rs. 2,869.00
Don the carnal charm of Rose with the warmth of Oud, created uniquely to appeal to your mystery that is as grand as the universe. A Modern Ittar that plays along the banter of your mind that withholds treasures and the lips that don't tell. We have paired it with  'The Lady Gilded' in Mahogany, wrapped in gold by Beige By Tej which is a bold depiction of raw, passionate energy, standing tall in all her sensual glory. 
ABOUT THE FRAGRANCE

 

: 
OUDH : A RICH DARK RESIN EXTRACTED FROM AGARWOOD TREES WHICH EXUDES AN EXQUISITE SENSUAL FRAGRANCE THAT ENVOKES A SENSE OF OPULENCE AND LUXURY. OUDH ALSO HAS CALMING PROPERTIES.
ROSE : INDIA BEING THE HOME TO A VARIETY OF ROSES LENDS ITS ROSE EDOUARD AND ROSA DAMASCENA TO CREATE A RICH SWEET FRAGRANCE THAT BALANCES THE WOODINESS OF THE OUDH.
WHAT'S IN THE BUNDLE

 

: 
'THE SAREE CANDLE' IN MAHOGANY & GOLD
 

–

 

SHE CELEBRATES HER INDIAN ROOTS AND CULTURE WHILE STILL BEING IN TOUCH WITH HER SENSUAL SELF. MADE OF PREMIUM ORGANIC WAX BLEND, ORGANIC DYES AND FRAGRANCES, VEGAN AND SCULPTED BY HAND IN INDIA. Made of premium organic wax blend, the candles are all natural and come in bio-degradable packaging. 
SIZE : 5.8IN X 2.3IN
'MYSTIQUE' MODERN ITTAR
 

– 8ML WITH NOTES OF OUD AND ROSE, GENDER AGNOSTIC COMPOSITION, VEGAN, ALCOHOL & CRUELTY FREE.